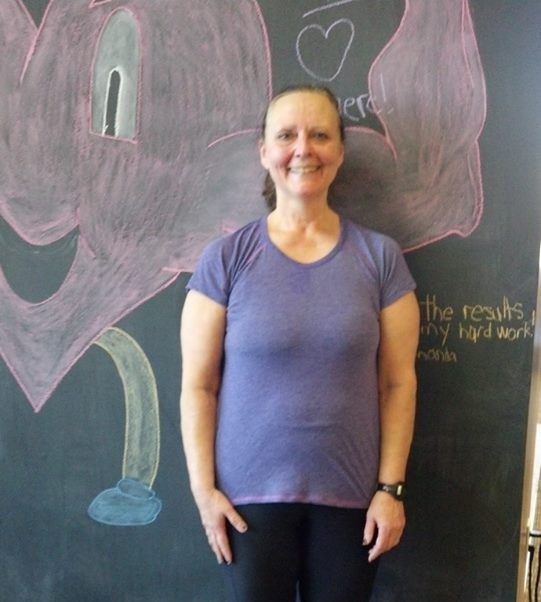 I will always remember February 26th, 2015 for that is the day my life changed forever, that is the day my husband introduced me to Tony Bednarowski.  I remember hiding behind my husband because I was so embarrassed about how fat and sick I had become. Tony was great, he was not judgmental, he was kind and made me feel at ease, but more important he was confident his Get Your Lean On program would help me.
Wow was he right, you see just the month before the Doctor had said that I had one more chance to get my diabetes under control or she would put me on insulin. I was 75 pounds overweight, I had triglycerides at 516 (heart attack waiting to
happen), I was tired, physically and emotionally all the time and my body ached from head to toe.
At 56 years old I was taking 7 different pills a day, for high blood pressure, diabetes, acid reflux, high cholesterol and the Dr was saying I should take something for the diabetic pain in my feet. I remember saying to my husband God can take my anytime, I'm just in such pain. So my husband said enough and brought me to Tony.
My life has changed so drastically it has been amazing. With Tony's, nutritional coaching and his Get Your Lean On program I have become a whole new person, I can't thank him enough for everything he has done, Tony gave me life back not my old life a new and improved healthy life!
Today 8 months later I have lost 62 pounds but that is a perk, more importantly my diabetes is now well controlled with "NO Medication", my triglycerides went from 516 to 95 I no longer take medication for anything!
It used to take every ounce of energy to pull myself up a flight of stairs, now I am running 2 miles a day and training for a 5K this summer! Get Your Lean On has been a life saver literally for me, I shudder to think where I would be if I had not met Tony, I am forever indebted.
Get Your Lean On has taught me how to eat for the best possible nutrition, the recipes are delicious, well thought out and there are many to choose from.  I have never felt better and I owe it to Tony and Get Your Lean On, thank you so much Tony for your kindness, encouragement, your knowledge and most of all your passion to help folks like me. I thought I was a lost cause, but you showed me I had so much potential and so much life to live yet!
Thanks Tony, you stuck with me through my ups and downs, my frustrations and challenges, you never gave up on me and for that I am forever thankful.
Cheryl L