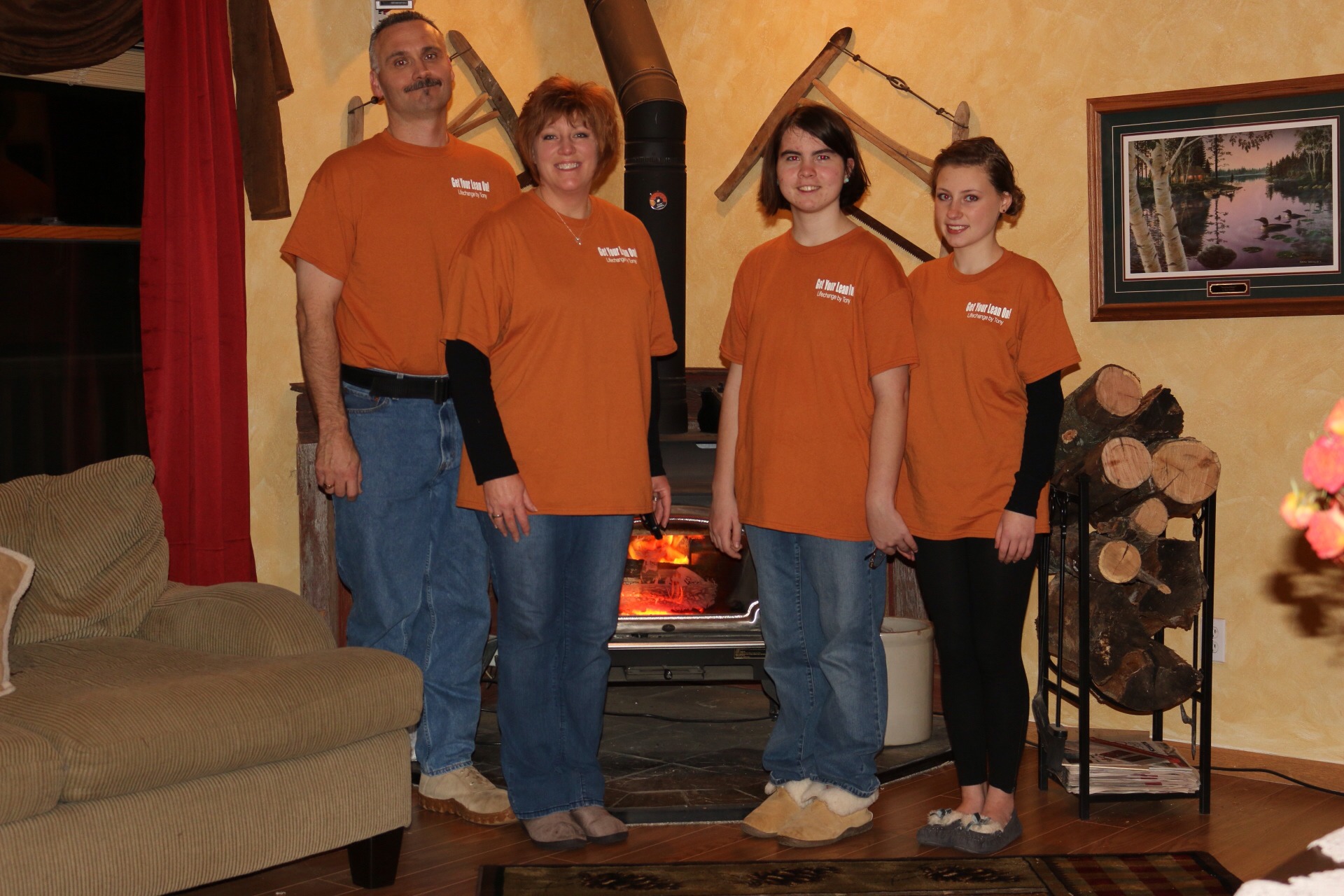 When I first heard about Tony it was through his success with my mother's health. I watched her health deteriorate and I was fortunate enough to be able to watch her health improve!
My own family had been struggling for years with weight loss and everything we knew to work seemed to not be working anymore. We had experimented with diets such as the Fireman's Diet, We used recipes from the Weight Watchers cookbook, and I made menus based off the food pyramid.
Our exercise consisted of a Hoist machine, elliptical, hand weights, bike riding, walks….all of these with no success, which only led to discouragement and quitting.
When I first purchased Tony's book I did the reading, then immediately made up my bi-weekly menu, made up my grocery list and said NOT ONE WORD to my family about our soon to change food habits. The whole family started eating RIGHT, right with me; the changes are nothing short of AMAZING!! Compliments……no complaints!
For my daughter Marisa (14) she is a tiny build, a dancer, so it seemed like she didn't have weight to lose. Although I saw her gaining a bit of bulge around her tummy and her arms didn't seem as firm as they used to be she was still tiny and little did we know that her small 5'2″ , 115 pound frame was about to experience an immediate 12 pound loss. She lost that in the first week and has continued to maintain what seems to be a more normal weight for her at 103.
Another thing I noticed was Marisa's mood swings, they also became more stable as we took the sugar out of her diet and her concentration with her studies has improved so much that she no longer needs me to stand over her to keep her focused.
My husband (41) had already lost about 40 pounds and that weight loss came so slowly for him which can be a discouragement for anyone. But with his joining us Tony's way, he lost an additional 20 pounds in 6 weeks, (1/2 of what he lost in a year!) which was the fastest his weight loss had come for him. He is completely reenergized and feeling much more positive about his changes. As his wife I have the right to say, he is my pickiest eater and he was so surprised by the meals. I can't tell you how much easier that made MY life!
My step daughter, Sydney, also 14, has impressed us the most. On a daily basis she suffered from a sour stomach that controlled her life. Nightly she needed Tums, Rolaids, Mylanta ….something to curb that pain. Sometimes it was so bad she would wind up vomiting.
Since eating Tony's plan, she has had IMMEDIATE results; Sydney has not suffered from any of the above mentioned. And now with her 27 pound weight loss over the last 12 weeks, it isn't just the weight loss people notice but her skin is clearing up. She suffered from a bad case of acne and now….we see that pretty face emerging! She personally loves Tony, he, to her, made her "feel better"!!! We are so thankful too, as parents it is difficult to watch your kids suffer thinking we are helpless. Tony has not only taken that away, but made us as parents more confident because he gave us the tools we had been missing.
Myself, (46) well, I was on a fast track to beating my mother at her ailments. I had always had to work harder it seemed than the average person to keep my weight down and at one point in my life in my 20's the Firemans Diet along with lifting weights had been a huge success for me " So I thought".
Seven years ago I started to see the weight gain, I tried that Fireman's Diet again, with no success and this time the gym was in my basement! I couldn't believe it; I was so let down that I gave up. Then my husband bought me a new bike, that was unsuccessful as well and I quit.
I had put on over 60 pounds over that seven years and couldn't figure out why it had become so difficult to manage and to take off.  I was experiencing a lot of pain, pains I never felt before, knees, feet, and all my joints. Sometimes it came in form of anxiety and I seriously thought I was having a heart attack.  Going up and down stairs was a struggle, walking became painful and bike riding….no way. The nightly heartburn was something I shared with Sydney, we often laughed at meeting each other before bed for our nightly dose of Tums! Then there was the pain and swelling in my feet, so embarrassing and let's not even talk fashion. For 46, this just couldn't be my truth! But I had in fact……given up. I quit!
And now, here I am 12 weeks later and 32 pounds lighter. The inflammation is gone, the pain is gone, I have had no heartburn, no anxiety and now I offer to go to the basement instead of delegating to my kids. I played volleyball with my kids this weekend and enjoyed it! I see the difference in Tony's way compared to other diet's I have tried. THIS feels a bit more like the TRUTH I wanted for my life and I owe it to Tony and his desire to share his knowledge with all of us. It takes love and compassion to do just that! Tony's knowledge has changed the lives of every member of my family and not being biological….but a "blending" family should say a mouthful!
Good Luck to you and your next step to success and a huge Thank you to Tony!!